5:30 P.M.
(Every Thursday Evening (for a total of 6-weeks} beginning 09/21/23 – 10/26/23)
(Mark your calendar and plan on attending)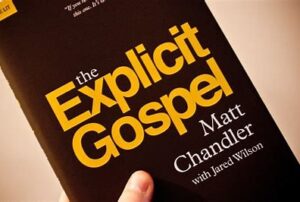 Beginning Thursday evening (September 21, 2023) at 5:30 pm, we will begin our Fall Bible Study. Our study will be based on Pastor Matt Chandler's Bible Study entitled Explicit Gospel. Matt is the lead pastor at The Village Church in Dallas/Fort Worth area. His desire (and ours too) is to challenge each of us to grasp the centrality of the gospel for all of the Christian life. You see and learn how the glory of God reigns supreme over every moment in His plan for our lives and how the cross captures and resurrects our dead hearts. We will also explore how the gospel is not just personal but cosmic.
The gospel of Jesus Christ is the greatest news ever proclaimed to humanity, yet many believers have a limited grasp of it's power. The Explicit Gospel 6-week video Bible study explores the truths of the gospel and challenges to grasp the centrality of the gospel for all of the Christian life, from the moment of salvation through the lifelong process of sanctification, and continuing into eternity. This Bible study includes the specifics of the gospel as well as its fullness, clearly outlining its massive implications on both personal and cosmic levels.
We pray that through this study, you will glimpse the size and weight of the good news, the eternity-spanning glory of the finished work of Christ.
We look forward to seeing you on September 21st at 5:30 pm. at Cove Church.